Welcome to the Official Web Site of the Richardson, Texas Bahá'í Community.
We are Bahá'ís - members of the Bahá'í Faith - living in the city of Richardson. Bahá'ís have been living in Richardson since the mid 1960's.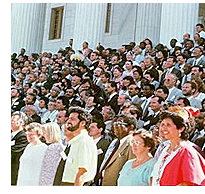 The Bahá'í community, comprising members of the Bahá'í Faith from all over the globe, now numbers over five million souls. They represent 2,112 ethnic and tribal groups and live in over 116,000 localities in 188 independent countries and 45 dependent territories or overseas departments. The Bahá'í Faith is recognized by the Encyclopedia Britannica as the second most widely spread independent religion in the world, after Christianity. Its membership cuts across all boundaries of class and race. Haifa, Israel, is the site of its international center and the seat of its world-governing council, known as the Universal House of Justice.
The Bahá'í Faith is the youngest of the world's independent religions. Its founder, Bahá'u'lláh (1817-1892), is regarded by Bahá'ís as the most recent in the line of Messengers of God that stretches back beyond recorded time and that includes Abraham, Moses, Buddha, Krishna, Zoroaster, Christ and Muhammad.
Bahá'u'lláh taught that there is one God Who progressively reveals His will to humanity. Each of the great religions brought by the Messengers of God represents a successive stage in the spiritual development of civilization. Bahá'u'lláh, the most recent Messenger in this line, has brought teachings that address the moral and spiritual challenges of the modern world.
The central theme of Bahá'u'lláh's message is that humanity is one single race and that the day has come for its unification in one global society. One of the purposes of the Bahá'í Faith is to help make this possible. The worldwide community of Bahá'ís working to give Bahá'u'lláh's teachings practical effect. Their experience will be a source of encouragement to all who share their vision of humanity as one global family and the earth as one homeland.
Their sense of unity goes beyond a shared theology. It is expressed in an abiding commitment to a global program for moral, spiritual and social progress that represents many of the finest ideals of civilization.
We invite you to learn more about our Faith - its perspective of the past, its understanding of the present, and its vision of the future.