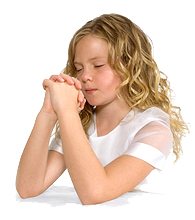 The teachings prescribe daily prayer and intimate communion with God as the foundation for a life devoted to spiritual advancement and service to humanity.
In addition to practicing private prayer and meditation, Bahá'ís gather in their homes and communities for collective worship. Devotional gatherings are scheduled regularly to share a devotional spirit of joy, love and fellowship.
Readings are taken from the writings and other scripture, Christianity, Judaism, Hinduism, Zoroastrianism, Islam and Buddhism. Participants are encouraged to bring their prayer books or favorite passages to share. These gatherings often offer prayers for healing or assistance to those in need.
There is no established ritual and no solicitation of funds.
Light refreshments are often served.
Magnified be Thy name, O Lord my God! Thou art He Whom all things worship and Who worshipeth no one, Who is the Lord of all things and is the vassal of none, Who knoweth all things and is known of none. Thou didst wish to make Thyself known unto men; therefore, Thou didst, through a word of Thy mouth, bring creation into being and fashion the universe. There is none other God except Thee, the Fashioner, the Creator, the Almighty, the Most Powerful.I implore Thee, by this very word that hath shone forth above the horizon of Thy will, to enable me to drink deep of the living waters through which Thou hast vivified the hearts of Thy chosen ones and quickened the souls of them that love Thee, that I may, at all times and under all conditions, turn my face wholly towards Thee.Thou art the God of power, of glory and bounty. No God is there beside Thee, the Supreme Ruler, the All-Glorious, the Omniscient.
(Baha'u'llah, Prayers and Meditations by Baha'u'llah, p. 4)
This is the Day whereon the Ocean of God's mercy hath been manifested unto men, the Day in which the Day Star of His loving-kindness hath shed its radiance upon them, the Day in which the clouds of His bountiful favor have overshadowed the whole of mankind. Now is the time to cheer and refresh the downcast through the invigorating breeze of love and fellowship, and the living waters of friendliness and charity.
(Baha'u'llah, Gleanings from the Writings of Baha'u'llah, p. 6)